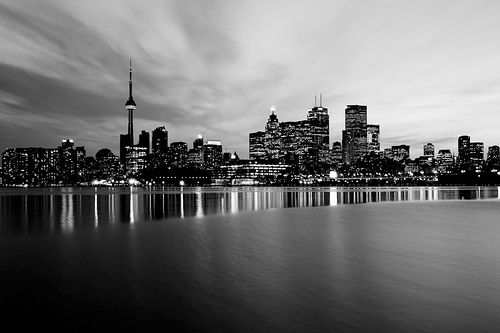 Toronto is not only the capital of Ontario, but it's also Canada's largest city with a current population of more than 2.7 million. Whether you're here for the first time or are coming back for the 10th time, if you really want to say you've been Toronto, these are the things you must put on your to-do list.
1. Ride up the CN Tower
Not only is the CN Tower is the tallest freestanding structure in the Western hemisphere, but it's Toronto's most iconic attraction, piercing through the city's skyline and lighting up the sky at night. The views from the top are incredible and it's definitely an all-ages experience, with guests young and old testing their nerves on the glass bottom floor. For those who are in the mood for a serious adventure should consider Edgewalk — the Tower's newest and most thrilling attraction. The 30-minute walk takes place on the edge of the CN Tower, as you're strapped into a harness via a trolley system, allowing you to be completely hands free as you circle the building. Scaredy cats need not apply!
Tickets
Adults – $32 (general admission)
Edgewalk – $175
Where to Find
301 Front St. West
Toronto, ON, M5V 2T6
416-86-TOWER (868-6937)
2. Get Cultured at a Museum
Museums are always at the top of our list when we travel and even if you're not crazy into them, we promise at least one in the city will catch your interest. Art lovers should plan to check out the Art Gallery of Ontario, Frank Gehry's first-ever building in Canada, featuring more than 80,000 works of art ranging from the 1st century to the present day. Shoe lovers need to visit the Bata Shoe Museum, where you'll find more than 1,000 items of footwear on at any given time. Another favourite has to be the Royal Ontario Museusm, home to archeology, natural science and art exhibits. A family-friendly destination, we suggestion going on a Friday evening, when they offer discounted admission prices to view their permanent collections.
3. Wander the Distillery District
Tourists and locals alike are fans of this historic area of the city, thanks to the one-of-a-kind boutiques, art galleries and restaurants, it's a great place to explore year-round. During the warmer months the patios are always packed and there are often live performances. Come winter there is a charming Christmas market, where you can sip hot cocoa, hear carolers, and shop handcrafted goods. Some of our favourite shops include Blackbird Vintage Finds, bath and beauty shop, Jacob & Sebastian, as well as Gotstyle, where you can shop for stylish duds for your guy and perhaps find some goodies for you too (this location has womenswear).
All that shopping will surely get your appetite going, and you'll want to stay for a bite, even if it's just a coffee at Balzac's. We dare you to walk into SOMA Chocolate without picking up a treat — prepare to be intoxicated by the smell of fresh chocolate. For a pint, definitely head to the Mill Street Brewery, where you'll find their local, handcrafted brews on tap.
4. Attend a Live Performance
Culture in the city doesn't end at the museums. Toronto has tons of artistic offerings, from live jazz to musicals and ballet. The theatre scene in the city is also quite diverse. If you're looking for a Broadway-style musical, check out Mirvish to find out what's currently on stage. Past shows have included Wicked, The Lion King, and Rock of Ages. You can buy tickets directly online or try and get a deal in person at TOtix located in Dundas Square downtown for day-of shows. You may also want to consider a National Ballet performance at the gorgeous (and acoustically superior) Four Seasons for the Performing Arts, Canada's first and only purpose-built opera house. For live music, we suggest seeing what's on at the legendary Horseshoe Tavern on Queen St. West or checking out some jazz at The Rex.
5. Get a Tan on the Island
When it's not possible to escape the heat of the city, the next best thing is to jump on the ferry and head to the Island. Be forewarned, during the summer it does tend to draw a lot of families, as the island is home to Centreville Amusment Park, a mini-theme park designed for young children. We suggest heading straight to the bike rental stand and picking up a bike to explore the island for a couple hours. It tends to be a busy spot, so you may have to wait in line upwards of 30 minutes depending on the time of day. Remember to bring photo ID with you, as you need it to rent a bike.
There aren't tons of eating options on the island, aside from a couple cafes and a few fast food vendors. Instead, we suggest packing your own picnic lunch and enjoying it under a tree. If you are stuck for food, head over to the Rectory Cafe, found on Ward's Island (all of the islands connect), which has a lovely patio, perfect for sipping a glass of vino.
Don't forget to bring your bathing suit and towel because you can take a dip in Lake Ontario on one of the many beaches on the island. Manitou Beach on Centre Island tends to be the busiest, but it's also has quite of a bit of beach and is also warmer thanks to the rock breakwater. A nice alternative is Ward's Island beach, which tends to be quieter, but still has a sandy beach, though the water is rockier. Be forewarned there is a clothing option beach too, but we're pretty sure you'll notice right away.
Getting to the island is half of the fun of the island experience. Bring your camera because there are great photo ops from the ferry. The ferry docks are located at the foot of Bay Street, beside the Westin Harbour Castle hotel. There are three different ferries you can take, all departing every 15 minutes. If you don't mind a walk, take the Ward's Island ferry, which is much less crowded than the Centre Island ferry. A return ticket costs $7.
6. Shop 'Til You Drop
From shopping malls to boutiques and high-end department stores there are tons of places to shop! One of the best places to browse when the weather is nice is along Bloor Street between Yonge Street and Avenue Road, with shops like Artizia, Zara, Club Monaco and H&M, mixed in with luxury retailers like Chanel, Louis Vuitton and Cartier. Plus it's also home to Holt Renfrew's flagship store. While you're in the area we suggest venturing behind Bloor Street into Yorkville, where you'll find tons of lovely one-off boutiques and cafes. Just be aware this is considered a high-end shopping destination, so be prepared to shell out major cash for your designer finds.
If you like boutique shopping, but don't have a massive budget, try Queen St. West. Starting just past University Ave. all the way to Bathurst St., you'll find a wide range of on-trend shops, ranging from chain retailers to one-of-a-kind finds. For even more hip boutiques, continue on Queen St. West, where the stretch from just past Bathurst St. to Ossington Avenue has great independent retailers. Some of our favourites include: Charlie Boutique, Girl Friday, Bicyclette and Heel Boy.
We also suggest hitting up Kensington Market, if vintage shopping is more your style. You can access it off Spadina Ave. — just head down St. Andrew St. (just north of Dundas St. West and you'll hit the centre of the area). For cool clothes and accessories, try popping into Bungalow and Courage My Love.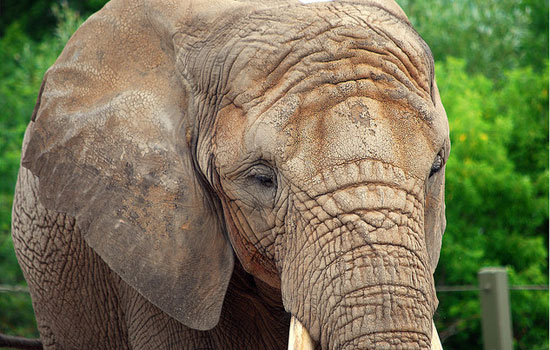 7. Visit the Zoo
Open year-round, the Toronto Zoo is home to over 5,000 animals, such as lions, elephants, zebras, and kangaroos. It also contains a 30-acre "African Savannah," has the largest gorilla exhibit in North America, and also has a 10-acre "Tundra Trek" complete with polar bears and Arctic wolves. Most recently the Zoo welcomed two giant Pandas, which will be in Toronto for at least five years, before they move to the Calgary Zoo in 2018.
The zoo covers a lot of ground, so plan to spend the afternoon here if you want to see the majority of the exhibits. From downtown you'll either need to drive or take two buses, which will take about 30 minutes.
Tickets
Adult: $23
Parking: $8
Where to Find
361 A Old Finch Ave.,
Hwy. 401 and Meadowvale Road (exit 389)
Toronto, ON, M1B 5K7
8. Walk the Waterfront
During the summer months Toronto's waterfront is bustling with people. The best place is start is the same spot where you can catch the ferry to the island. Just west of here is Harbour Square where you can grab a water taxi, ice cream or start walking the boardwalk. Avoid taking a water taxi (too expensive) or the water tour that's sold here (the ferry ride is not only cheaper, but you'll get a way better view).
If a drink and some rays are all you're after, then hit up a patio at one of the restaurants in the Queens Quay Terminal. Further west you'll pass a skating rink (a great place to go in the winter), along with the Harbourfront Centre, where you'll find an array of cultural activities happening year-round, like outdoor concerts, film screenings and food-related events. During the summer you'll also find a small market, with vendors selling arts and crafts, food and other artisan goods.
Another point of interest along the walkway is the city's urban beach HtO Park, designed for us urbanites to feel like we have a sliver of nature — even if it's man-made — in our concrete jungle. You'll know you're here right away as soon as you spot the yellow umbrellas and Muskoka lounge chairs. The waterfront trail goes on for quite some time and if you're inclined to do so, is a wonderful path to run, walk or even ride a bike.
Image credits {praveezybabyy, cel.ca, torontislandbicyclerental, derekp, asla.org}