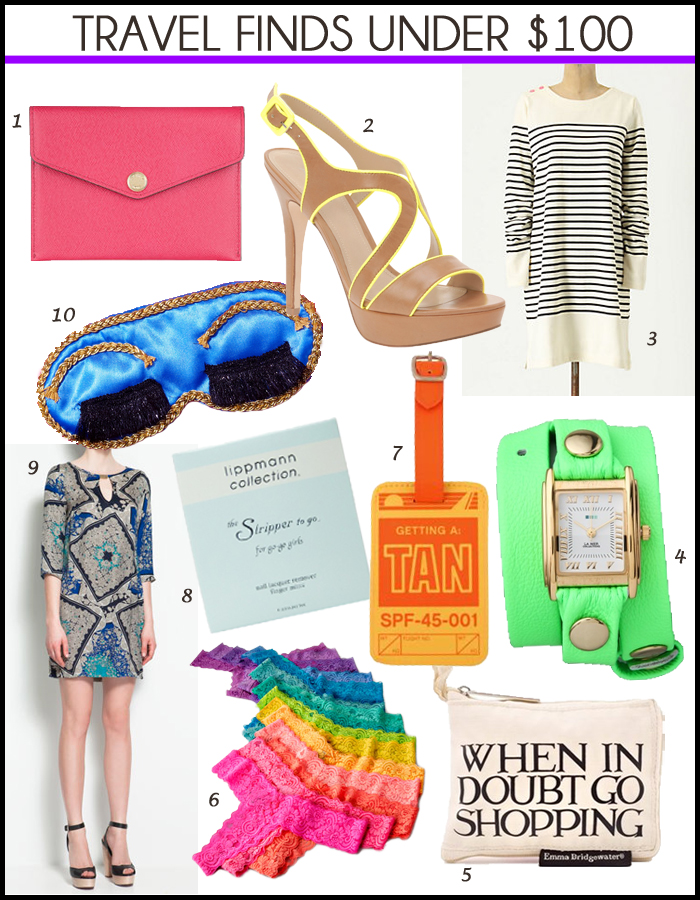 We're always on the look-out for cheap and cheerful travel goodies we can tote along on our next getaway. Sometimes we'd rather save a few dollars getting prepped, so we can spend it on what counts (ie. the actual trip!). And although we like to travel in style, we like to mix it up with affordable pieces too. To help you jet-set in style without breaking the bank, we found 10 travel pieces all under $100 we think you'll love as much as we do.
1. MICHAEL Michael Kors textured-leather passport holder, $60, net-a-porter.com.
We love keeping our passport in a stylish holder and think this fuchsia hued one is a simple, yet chic one to keep your most important travel document protected. Plus it has just enough slips to hold a few credit and business cards.
2. Aldo Bracker heels, $90, aldoshoes.com.
Add a pop to your evening or even day look with a pair of neon-piped platforms. If you're intimidated by colour this is the perfect compromise.
3. Anthropologie Top-of-the-line chemise, $78, anthropologie.com.
Great for wearing on the plane with a pair of leggings, throwing over a swimsuit or lounging about. Comfortable and roomy, this cotton-striped pullover is a simple, yet perfect travel companion.
4. La Mer Collections neon simple wrap watch, $90, shopbop.com.
Another way to wear a bright colour, we love this bracelet meets watch that has a gorgeous clock face and rich Italian leather band.
5. Emma Bridgewater fold away shopper, $13, chapters.indigo.ca.
Just because you're travelling doesn't mean you won't be grocery shopping. If you're renting an apartment or have a hotel with a kitchenette and plan on cooking, be enviro and back a reusable shopping bag. It's too cute not to love.
6. Forever 21 Allover Lace Thong, $3.80/each, forever21.com.
It's always better to pack too much underwear then not enough. You won't feel guilty throwing in an extra handful of these cute and colourful thongs.
7. F1 Getting a Tan tag, $18, flight001.com.
Make a statement on your bags with a fun luggage tag, like this vintage-inspired one from Flight 001 that reads "Getting a Tan." Warning: you may make other travellers jealous of your destination.
8. Deborah Lippmann Stripper to Go Polish Remover Finger Mitts, $12, nailpolishcanada.com.
Polished up for your trip? Don't even think about packing nail polish remover, instead try this travel-friendly remover finger mitts. Besides taking your polish off in a jiffy they smell divine.
9. Zara printed dress with applique, $60, zara.com.
Hands-down Zara is one of our favourite go-to stores for fashionable and affordable clothes. We love this printed dress and can easily see it being worn museum hopping in the day or for dinner and drinks at night.
10. Fred Flare Holly GoNightly Sleep Mask, $15, fredflare.com.
Channel Miss Holly Golightly on your next trip with this Breakfast at Tiffany's-inspired sleep mask. Whether you need some shut eye on the plane or prefer to sleep in complete darkness, this will do the trick.