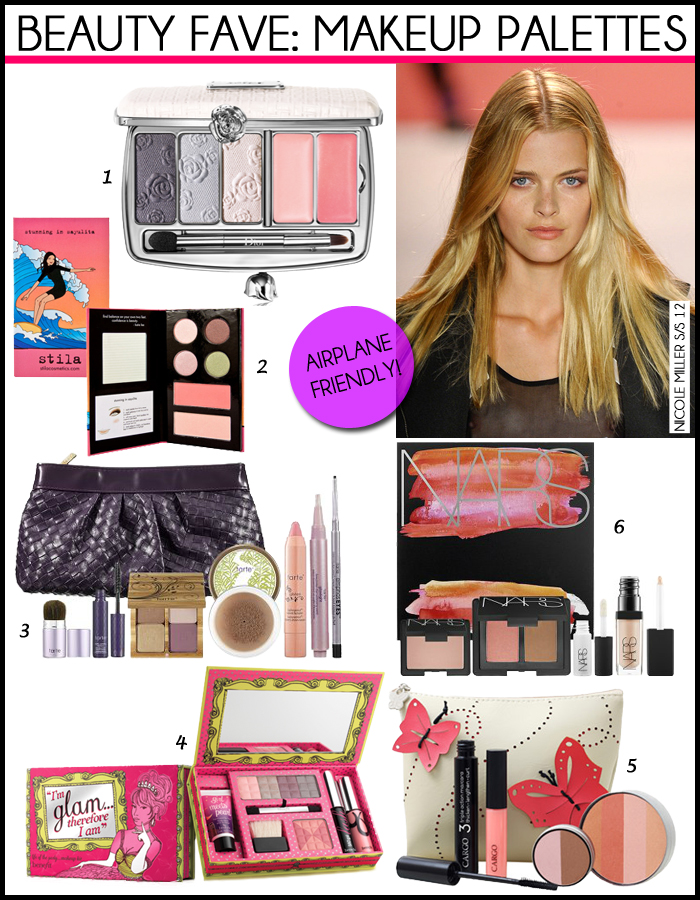 Recently we found ourselves looking for mini versions of some of our favourite beauty products — not always an easy task let us tell you — not only keep our makeup bags lighter, but to allow us to squeeze some must-haves into our carry-on. After some careful consideration, we decided that palettes were the best of both worlds. More often than not the packaging is adorable (or better yet, you get a mini bag) and you get a great selection of products to boot. With so many to choose from we selected 6 of our favourites we think are perfect for spring.
1. Dior Limited Edition Garden Clutch, $75, dior.com.
We want this fresh and pretty palette if just for the clutch it's housed in! With three eyeshadow shades and two glosses, the hues are perfectly spring. Throw on your carry-on and you'll be glowing when you step off the plane.
2. Stila Stunning in Sayulita, $18, ebeauty.ca.
We went mad for the Stila travel palettes the moment they came out. While you can't find them on the Stila website, we were thrilled to spot one on ebeauty.ca. This particular one is inspired by surfing and comes with a highlighter/bronzer, four eyeshadows and a blush. Great for that fresh off the beach look. Plus it's super compact and will easily fit into a purse or clutch.
3. Tarte The Luxe List Amazonian Clay Color Collection, $44, sephora.com.
This particular set is jam-packed with goodies, including a finishing clay powder for a sunkissed glow, a mini mascara, eyeshadow quad and a peach gloss. We're particularly fond of the Luminizing Wand made with Amazonian Clay that is designed to improve your skin's texture and is great for post-flight pastiness.
4. Benefit I'm glam… therefore I am, $36, benefitcosmetics.com.
It's hard not to love Benefit thanks to their adorable packaging. This limited edition kit includes some great products that you'll not only want to use post-plane, but also on your trip! Girl Meets Pearl is just one of the favourites included, which is a fantastic illuminizer to give you that dewy glow. You'll also find a mascara, eyeshadow palette and pretty pink gloss.
5. Cargo Spring Collection, $39, ebeauty.ca.
Another set found in a pretty clutch, you'll get all of your makeup essentials here, including a mascara, gloss, eyeshadow duo and blush. It's everything you need to create a fresh spring look.
6. Nars Wicked Attraction Set, $49, sephora.com.
What we love about this set is that the shades included are pretty much universal. Whether you have dark or fair skin, the pink eyeshadow or even the blush/bronzer duo would work. Plus you also get a smudge proof eyeshadow base which we think is a perfect travel companion.