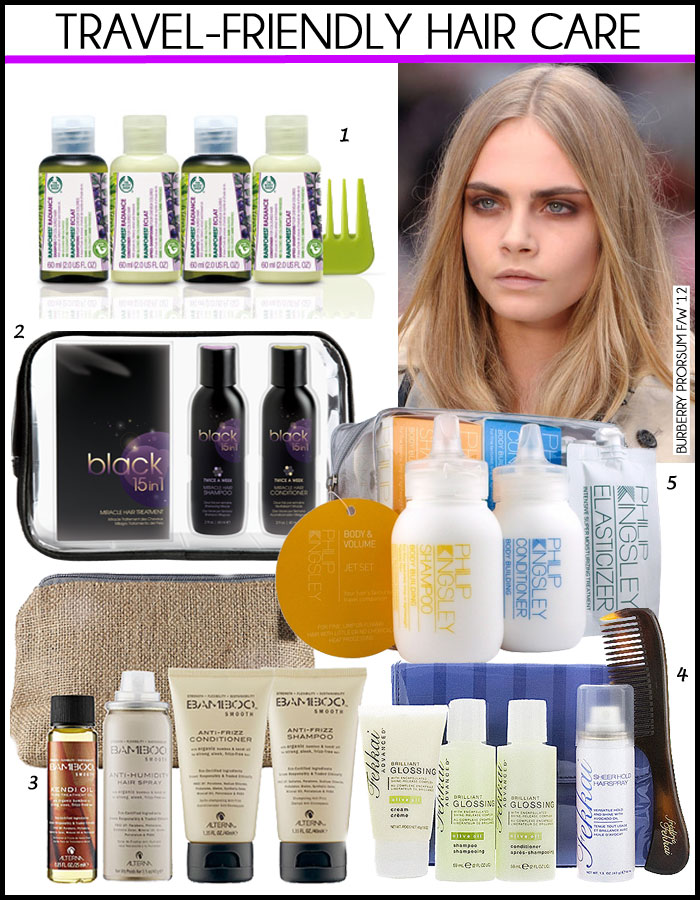 On a recent trip I decided to forgo toting along my own shampoo and conditioner, hoping the hotel I was heading to had the basics — big mistake! No conditioner, just a "Conditioning Shampoo" (not exactly a two-in-one either). While some hotels will provide you with luxurious toiletries, some don't even throw in a conditioner. If you're travelling for work, or even a special weekend and you can't risk having bad hair, we understand, that's why we've found five awesome hair care sets that are also travel-friendly (ie. carry-on approved) you may want to consider packing on your next getaway.
1. The Body Shop Rainforest Radiance Kit, $15, thebodyshop.ca.
Calling all lovelies with colour-treated hair. This kit from The Body Shop is an ultra-moisturizing range designed for you. Included is not just one, but two shampoo bottles and two conditioners, so you'll definitely have enough for a week-long getaway. Plus they throw in a comb to boot!
2. Black 15in1 Signature Travel Kit, $30, available at select salons, black15in1.com.
A favourite line of celebrities including Nina Dobrev and Olivia Munn, this CATSA-approved kit includes a shampoo, conditioner and treatment, perfect for all hair types. What's cool about the line is that it helps maintain your hairstyle for up to four days, and includes sunflower seed extract that acts as a natural UV filter to protect colour-treated hair against the sun. The perfect kit if you're planning on heading to a sunny destination.
3. Alterna Bamboo Smooth On-the-Go Travel Set, $26, sephora.com.
The one thing you can't control when you travel is the weather. If you're heading to a humid destination and suffer from the frizzies, this set is perfect for you. Formulated with bamboo extract to help smooth hair, you'll get an anti-frizz shampoo, conditioner and hair spray, plus a treatment oil to really make sure things stay tame.
4. Fekkai Brilliant Glossing Travel Faves Kit, $51, ebeauty.ca.
The ultimate kit for smooth and silky locks, you'll get a shine-enhancing shampoo, smoothing conditioner, a glossing cream to help tame flyaways and a lightweight hairspray to set the look. They've also thrown in a bag and comb to keep it all organized.
5. Philip Kingsley Body & Volume Jet Set, $35, philipkingsley.com.
Don't think your hair notices the changes in temperature and pressure as your skin? Wrong. In fact, it may even be more sensitive. For those you need a boost of volume (we know because we d0), then this kit is your savior. Included are a body building shampoo and conditioner, as well as three pre-shampoo treatment packs (the treatment was originally created for Audrey Hepburn), that helps to give your locks bounce and shine. Bye-bye flat hair!