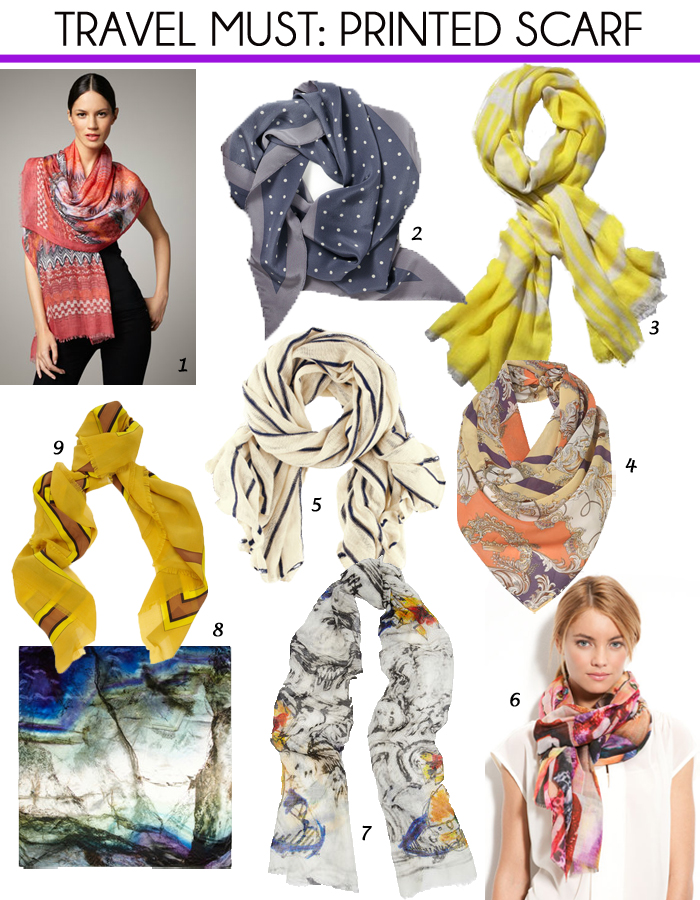 We've recently shared our love for the cross-body bag and the ballet flat, so it's only natural to include another travel must with you: the printed scarf. As we've mentioned before, we love travelling with a scarf as it makes a stylish addition to your wardrobe and helps keep you cozy from the chill of the airplane. While a solid shade always does the trick, a little colour doesn't hurt sometimes too. Whether it's a striped pattern or cool tie-dyed style, a printed scarf is a travel essential. Here's 9 we're loving now.
1. Missoni zigzag print stole, coral, $330, neimanmarcus.com.
Add instant style with a gorgeous Missoni stole designed with the classic Missoni zigzag pattern. Coral is the perfect shade to add a pop of colour and thanks to the linen it's lightweight enough to wear in a tropical destination.
2. Club Monaco polka dot Petra scarf, $64, shopbop.com.
Chic and classic, this scarf in either brown or blue is ideal under a trench, with a sweater, t-shirt and jeans or paired with an LBD for a night out. The classic shades and style mean you can literally take this scarf anywhere, any season.
3. Express graphic stripe oblong scarf, $35, express.com.
Nothing adds colour like a canary yellow. A simple graphic stripe pattern, that's super lightweight, it will pair well with jeans and a basic tee.
4. Topshop chiffon cupid scarf, £22, topshop.com.
You're going to have to purchase this Topshop scarf off of their website since it's currently not available in Canada. But thankfully they ship to internationally, and the extra effort is worth it for this light-weight scarf with a dreamy pattern.
5. H&M scarf, $15, hm.com.
Plan on sailing? At least look like you're going to with a nautical-inspired scarf like this simple navy one from H&M. We also like that it's not going to break the bank!
6. Shawlux "Captured Moments – Kiss Me Lips" scarf, $175, nordstrom.com.
A gorgeous blend of cashmere and silk, this colourful scarf looks simple enough when tied up, but unfolded reveals bold lips.
7. Vivienne Westwood printed woven scarf, $275, net-a-porter.com.
We're crazy for this printed scarf by Vivienne Westwood. Featuring illustrations against a backdrop of the label's signature orb motif, it's sure to become a favourite in your closet.
8. Weston Scarves Fluorite printed silk-habotai scarf, $285, net-a-porter.com.
We were instantly smitten for this scarf designed by Richard Weston, with its nature-inspired hues. Edgy, yet glamorous it can work in the day with jeans or in the evening with your LBD.
9. Burberry printed silk scarf, $450, net-a-porter.com.
Who doesn't want to own a little bit of Burberry? We love this sunny hue classic detailing and think it's perfect for a weekend getaway, be it chilly or a hot destination.