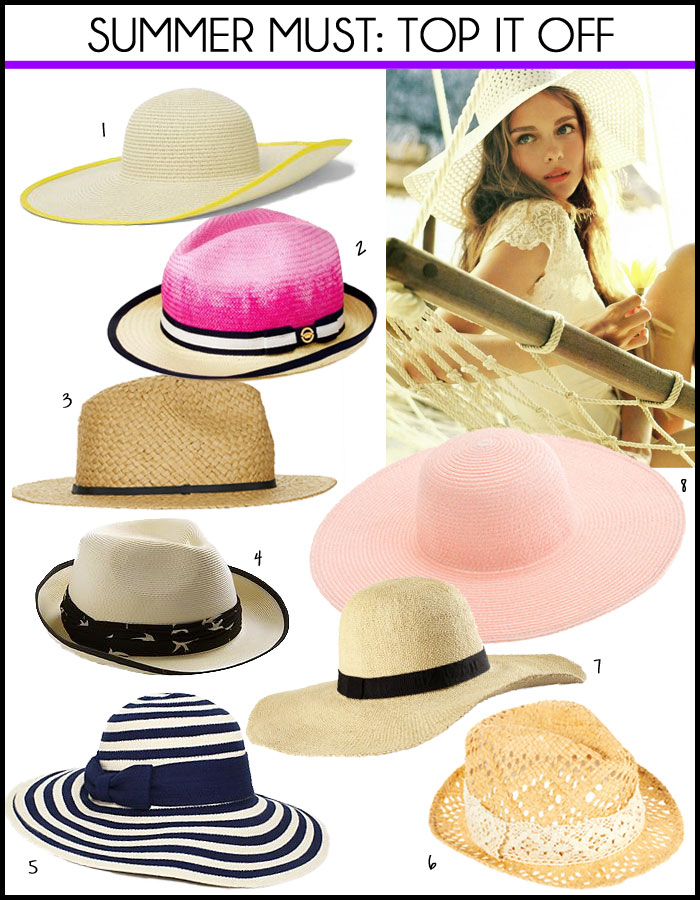 One beauty item we never leave home without is our trusty SPF, but sometimes having a bit more protection from the sun doesn't hurt either, especially if it's a stylish topper. Whether you're planning on lazying around poolside, rocking out at a summer concert or gallivanting through the cobblestone streets in Europe, we think a stylish summer hat is an accessory you shouldn't leave home without. And to keep you wallet in check, we've found 8 options all under $100.
1. Club Monaco Contrast straw hat, $80, clubmonaco.ca
A wide-brimmed hat gives you full coverage from the sun. A beach must. We also love the sunny neon yellow trim for an added burst of colour.
2. Juicy Couture ombre straw fedora, $48, juicycouture.com
Who says a hat needs to be neutral? Wear this to an outdoor summer festival and your friends will be able to easily spot you in the crowd.
3. Topshop straw shorter brim fedora, $45, topshop.com
We love fedoras for sun protection while out-and-about. A great option for biking through Napa Valley or sightseeing in Europe.
4. San Diego Hat Company fine braid fedora, $42, piperlime.com
Go for a printed band on your fedora if you're looking for something that stands out a little more than a neutral fabric. We love birds, so this option made our list.
5. Kate Spade Stripe sun hat, $78, katespade.com
Stripes have become a summer neutral, so going for a striped hat is a playful alternative. This floppy version has enough of a brim to cover your face, making it great for a tropical destination.
6. Oasis Lace Trip Triby hat, $26, asos.com
For a feminine take on the fedora, we suggest going for this pretty find with an open weave and white lace trim. Pair it with a band tee, ripped jean shorts and moto boots for a tough luxe look.
7. H&M straw hat, $15, available at select H&M locations.
It doesn't get more classic than this for those of you in search of a wide-brimmed hat that will shield you from those reflective rays off the pool. Just be sure to pair with oversized shades to keep onlookers guessing.
8. J. Crew summer straw hat, $35, jcrew.com
Don't worry about squishing this hat in your suitcase. Designed to be folded and flattened without losing its shape, the brim on this sunwashed pink hat is extra-wide, allowing you to hide away from those harmful rays.
MORE TRAVEL & STYLE:
Travel Skincare Advice from a Dermatologist
The Top Touristy Things to Do in Toronto
What to Pack: For a Tropical Getaway