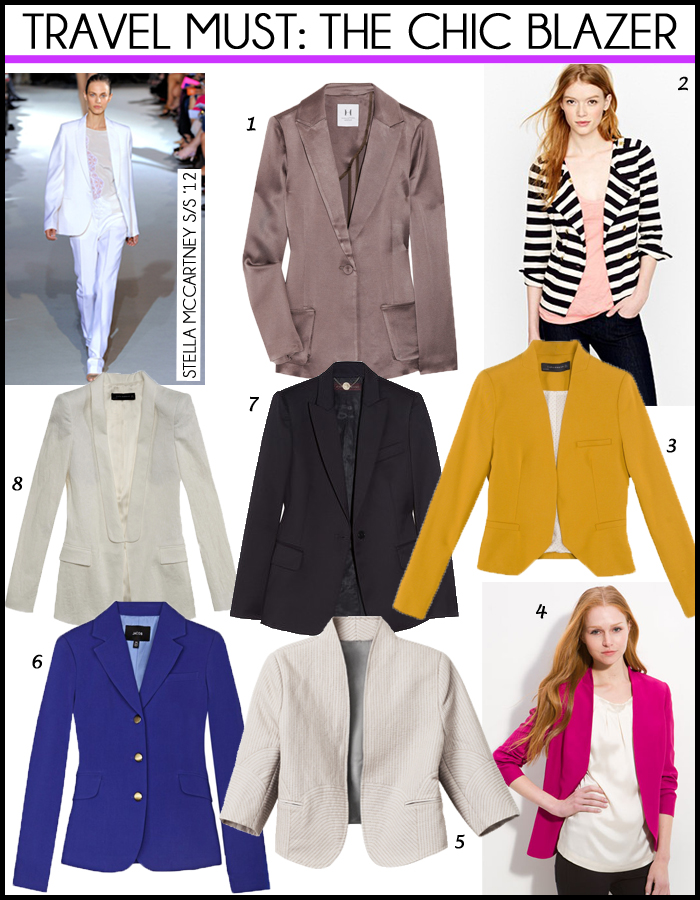 Nothing says chic quite like the quintessential blazer. It's a wardrobe staple, whether you opt for a fitted one to accentuate your waist, a trendy boyfriend blazer, or the perfect match to a suit. Designers have been reinventing the blazer season after season, and for spring/summer 2012 picking up a crisp white tailored blazer, or one in a cheery, bold pop of colour will keep you on trend. And of course a neutral is always welcome in any wardrobe for a classic and clean look. The blazer is ideal for the swish travel set because of its unwavering versatility. Throw it on over faded jeans and you're set for shopping, over a long tee and leggings and it's a comfy airplane option, and it plays double duty when paired over a summer dress with a scarf as a great accessory and for added warmth. What's not to love about the trusty blazer? Here are a few blazers we're currently coveting … the Stella McCartney will be an investment, but a worthy one, we promise!
1. Halston Heritage Brushed Satin Jacket, $154, theoutnet.com.
Neutrals need not be boring. This taupey shade means beige will be a thing of the past. Perfect over jeans with flats and a scarf, or thanks to the slight sheen, it's elegant over your LBD for a night out.
2. J. Crew Merriweather jacket, $148, jcrew.com.
This season we're obsessing over striped, nautical-inspired blazers and this J. Crew selection fits the bill.
3. Zara yellow jacket, $100, zara.com.
For a pop of colour that doesn't venture into the neon side, this yellow blazer is perfect. Plus the slightly cropped bottom and details make it look more expensive than it actually is.
4. Helen Berman Edge to Edge blazer, $228, nordstrom.com. 
This notice-me blazer is not for those wanting to blend in, but it's easily wearable throughout the spring and summer months, not to mention your next trip to the Caribbean.
5. H&M jacket, $60, hm.com.
The structure of this neutral cream jacket is reminiscent of a covetable Chanel blazer, and who wouldn't want to add a little Chanel inspiration into their wardrobe (until you cab buy the real thing).
6. Jacob 3-Button Blazer, $129, jacob.ca.
If we had to pick any bright neon hue to add to our wardrobe it would be electric blue. This blazer from H&M in a classic boyfriend structure paired with crisp white denim and wedges will be out go-to outfit for a summer city travel destination.
7. Stella McCartney Iris Tailored Wool-Twill blazer, $1295, net-a-porter.com.
Ok, this is the investment piece. It has a hefty price tag, but it's Stella, and it's in never-fail, polished black. You can't go wrong. This will become your new travel must-have in a heartbeat because you can pair it with absolutely anything.
8. Zara Tuxedo Style Blazer, $100, zara.com.
Taking a cue from the Stella McCartney Spring/Summer 2012 runway, a clean white blazer in your wardrobe is a summer essential. It's also the perfect option for a beach or hot destination to throw on over a sundress or even a tank and shorts.