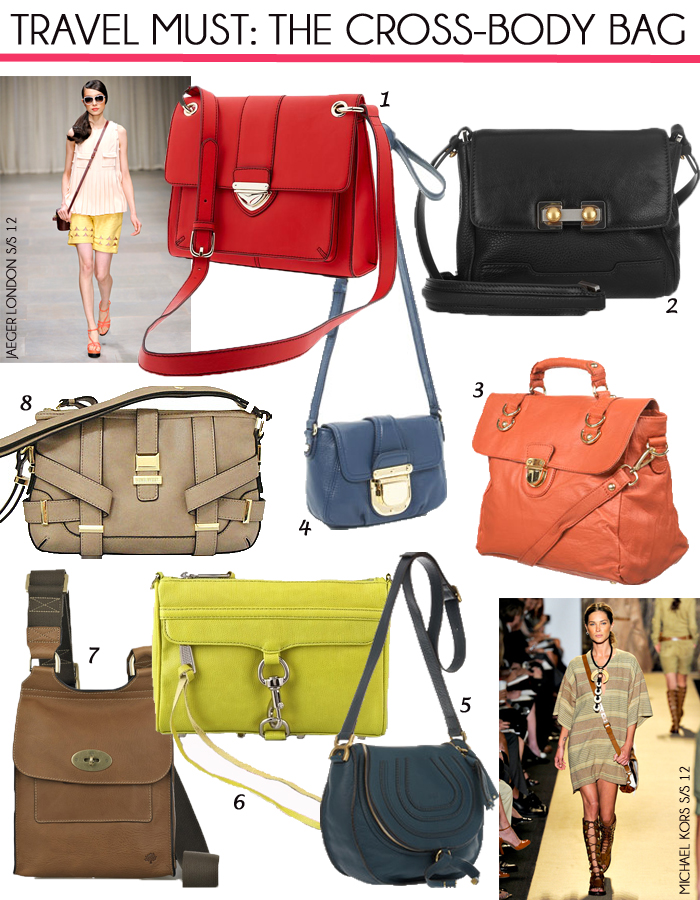 Our latest travel essential? The ever-functional cross-body bag. Designers are back on the cross-body bag swing and we love it. From mid-sized to small, a cross-body bag to sling over your body holds all your travel necessities, without the bulkiness of a hobo or tote. And the ability to keep it close to you means you can be at ease while shopping through markets and small streets. But, let's be honest, we love it not just for travelling, but downsizing our everyday bags as well.
1. Banana Republic Aria leather cross-body bag, $150, bananarepublic.ca.
Add a pop of colour to your look with a cherry red bag like this bold one from Banana Republic. Big enough to carry all of your essentials, it's the perfect cross-body bag to tote all day.
2. Marc by Marc Jacobs Bob's Memphis leather shoulder bag, $300, net-a-porter.com.
Sleek, black with gold details, this bag will go with every outfit, from day-to-night and hold you most valuables easily. In fact, this is one bag we want to use everyday, not just for travelling.
3. Topshop leather pushlock satchel bag, £85, topshop.com.
A great alternative to tan, this pumpkin hued satchel from Topshop is the perfect tote to fit all of your travel essentials. A chic front clasp, the cross-body strap will leave your hands free to take plenty of pictures.
4. MICHAEL Michael Kors Charlton Crossbody, Navy, $138, michaelkors.com.
The colour and gold clasp had us sold on this little bag. It's ideal for tropical or beach getaways, and come spring and summer the punch of colour makes it easily wearable in your everyday wardrobe.
5. Chloé Marcie small leather satchel, $1,265, net-a-porter.com.
A definite splurge, this satchel from Chloé is a 70s inspired design with great gold hardware details. We imagine toting this on a cool city getaway, like New York or Paris.
6. Rebecca Minkoff neon lizard mini MAC bag, $207, shopbop.com.
Keep your hands free all night with this punchy neon bag from Rebecca Minkoff. Glazed and lizard-embossed, you'll still be able to fit your cell, lipstick and passport (aka the essentials) while you dance the night away. Perfect for a beach vacation, you'll love this bag long into the summer months.
7. Mulberry Antony leather cross-body bag, $500, net-a-porter.com.
For the more functional traveller, this chic Mulberry bag slings across your shoulder and has a more well-worn look. Definitely our favourite pick for a more casual outfit (think trekking through Peru, Thailand or hiking in the Caribbean).
8. Nine West Show Stopper Small Crossbody, $70, thebay.com.
The perfect nude bag for your wardrobe, we love the texture in this cross-body bag and the size is great for day-tripping.