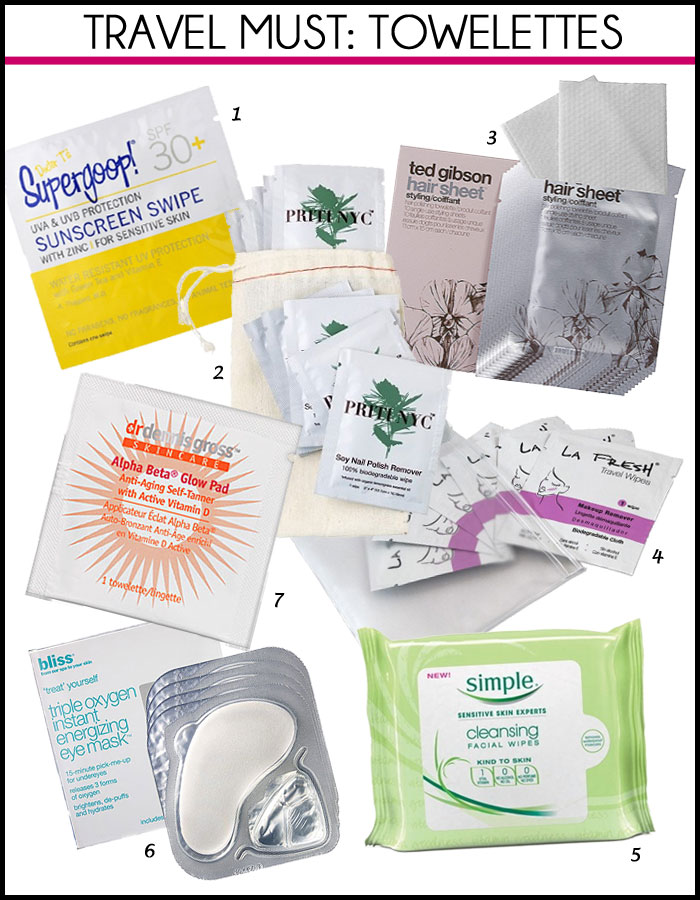 We've already given you the scoop on what beauty products are approved for airplane travel, but let's be honest, sometimes it's easier not to deal with liquids all-together. Our solution? Travel-friendly towelettes. The great thing is you'll find everything from cleansing wipes to nail polish remover pads and even towelettes for your hair! Whether you want to stash them in your carry-on bag, or just lighten your luggage weight, we've found seven options you'll want to pack now. 
1. Supergoop! SPF30+ Sunscreen Single Swipe Tote, $15 for 7, supergoop.com
Anything that can make putting on sunscreen easier is good with us. Designed for sensitive skin, they contain zinc and are SPF 30, which means you'll be protected against harmful UV rays. Great for hikes, the beach or just reapplying mid-day.
2. Priti NYC Soy Nail Polish Remover Wipes, $10, anthropologie.com
We love travelling with nail polish remover wipes since getting to a salon to deal with a chipped nail is not always on option. We also prefer wipes over a bottle of remover, not only for space, but it's not exactly a liquid you want spilling inside your makeup kit. These particular wipes are great because they're biodegradable and non-toxic.
3. Ted Gibson Hairsheet, $17, ebeauty.ca
Get frizzies when you travel to humid climates or maybe you just want to smooth out your locks before heading out for the night, whatever the case, these polishing hairsheets are a lifesaver. Formulated with conditioning ingredients like lavender oil and Vitamin E, your tresses will also be protected against UV rays.
4. La Fresh Makeup Remover Wipes, $4 for 6, lafreshgroup.com
Sometimes it takes a little more than a cloth and your cleanser to get off a few layers of makeup — we know, we've been there. These biodegradable makeup remover wipes from La Fresh are perfect for getting off the stubborn stuff and are alcohol-free too, meaning your skin won't get dried out, something you don't want when you're travelling.
5. Simple Cleansing Facial Wipes, $11, available at mass retailers across Canada
Hitting the Canadian market earlier this year, Simple skincare is the number one skincare brand in Britain, in case you didn't know. We love a cleansing cloth that is gentle, but is strong enough to get your makeup off — these wipes do both and can also remove waterproof mascara. Plus they're oil-free and alcohol-free.
6. Bliss Triple Oxygen Instant Energizing Eye Mask, $54, sephora.com
Ever landed, hit the airport washroom and freaked out when you saw dark circles and bags under your eyes? Basically, this is us every trip. Bliss has designed these amazing (and portable) eye masks that de-puff, brighten and hydrate your eyes in 15 minutes. Each mask contains quite a lot of liquid, so we suggest resealing and using at least one more time (maybe before you board your flight home).
7. Dr. Dennis Gross Skincare Alpha Beta Glow Pads, $37 for 20, sephora.com
Even when we travel to sunny destinations, we don't want to spend the entire time laying in the sun getting a tan (um, sun spots and aging? no thanks!). Instead, you can get a little colour — naturally — with these easy to use glow pads. The alpha- and beta-hydroxy acids exfoliate skin first, to eliminate the possibility of getting streaking colour and is formulated with Vitamin D to help protect skin, so you can fake your colour without the damage.