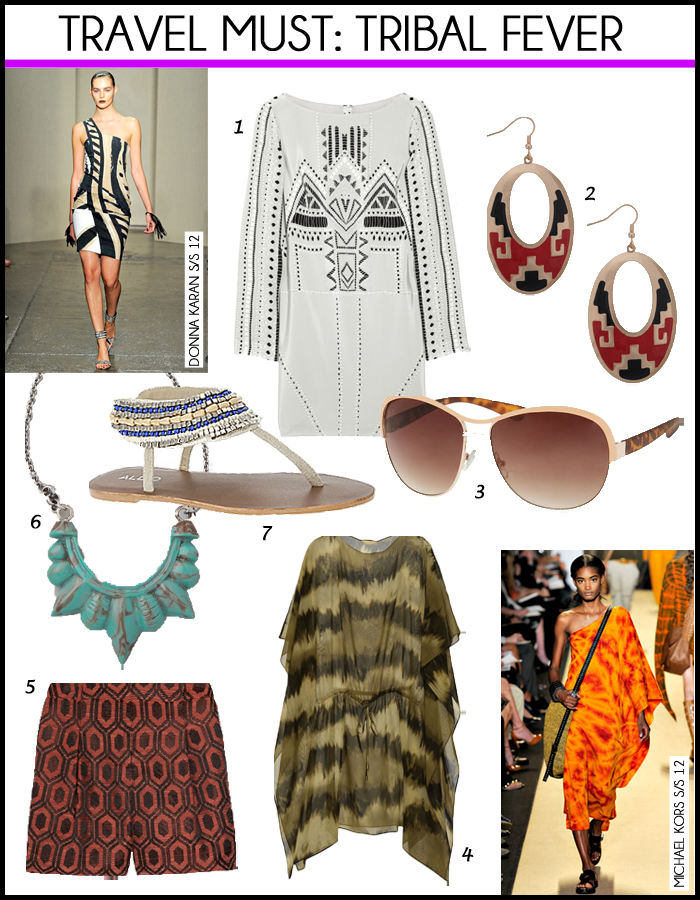 Whether you're planning a hot tropical destination, or just a summer city escape, if there's one trend we go to summer after summer, it's tribal. Something about the earthy tones, animal prints and rustic fabrics just oozes hot temperatures in the summer months. And even though sunny afternoons might not quite be here yet, these key pieces will transition you into spring and summer, and provide key travel musts.
1. Tibi silk crepe printed dress, $400, net-a-porter.com.
Ease your way into the tribal vibe this season with a dress in a neutral colour, but with some serious embellishment.
2. Forever 21 tribal drop earrings, $5, forever21.com.
At this price it's easy to add some tribal-infused accessories to your spring and summer wardrobe. Perfect for a casual weekend, or a tropical destination.
3. Zara aviator sunglasses, $30, zara.com.
Nothing says summer like a chic pair of sunnies, and these beauties with a tortoise shell print on the frame are our current faves for a tribal influence, or any wardrobe for that matter.
4. Michael Kors Sabora printed silk chiffon kaftan, $1,395, net-a-porter.com.
This is for serious tribal trend lovers. If each and every summer–or every beach vacation–you sway toward tribal-inspired prints and details, why not invest in a key statement piece that will last for years?
5. Burberry London jacquard shorts, $325, net-a-porter.com.
We love how Burberry always takes hot trends and makes them totally wearable. These shorts will be great paired with a blazer and heels and can easily go from an afternoon shopping to dinner.
6. Pamela Love tribal spike necklace, $214, shopbop.com.
A statement piece and tribal piece in one that will no doubt be in your suitcase for any sunny or summer destination you head to.
7. Aldo Gile flat, $50, aldoshoes.com.
Add a small bit of the tribal trend to your wardrobe with a summery flat sandal. Whether paired with shorts, a maxi dress or a slim pair of denim, these sandals will be both comfy and chic.