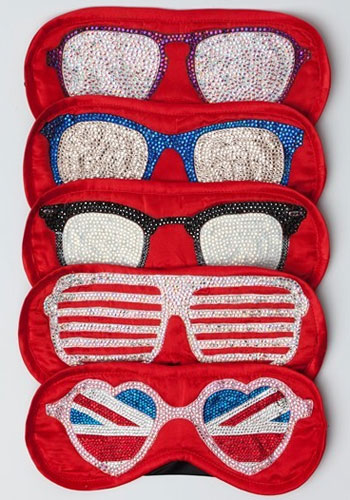 Feeling lucky? This Thursday, Virgin Airlines will be giving out five Swarovski crystal-encrusted eye masks found in the amenity kits handed out in the economy section of five different flights.
The sparkly eye masks are designed with more than 3,000 red, white, and blue Swarovski crystals, all hand-applied by artist Saima Anwar (each took 10 hours), who has done crystal eyelashes for celebrities including Katy Perry.
This swanky giveaway is tied into Virgin Airlines recent introduction of their new complimentary in-flight amenity kits for its economy, premium economy and first-class passengers on September 1.
The new economy amenity kits will include its signature red eye masks decorated with one of the six sunglasses designs (sans crystals), while economy premium kits come in charcoal grey pouches made from recycled plastic bottles. The pouches will have a silk lining, designed to double as a travel wallet. For first class, the amenity kits have the same pouches, only larger, designed to fit an e-reader or tablet.
Hardcore Virgin Airlines fans will know this isn't the first time they've collaborated with Swarovski. Since 2003, if you were a first-class passenger you would have noticed Swarovski crystals on the cabin walls, while curtains adorned with Swarovski crystals were recently added to the revamped first-class section on their A330 aircraft.
Hoping to be one of the lucky passengers to find one of the crystal eye masks? It could be on any of the airlines flights to or from 11 cities in North America including New York, Boston, Chicago and Los Angeles. We WISH we were travelling this Thursday. Even just for the thrill of it.