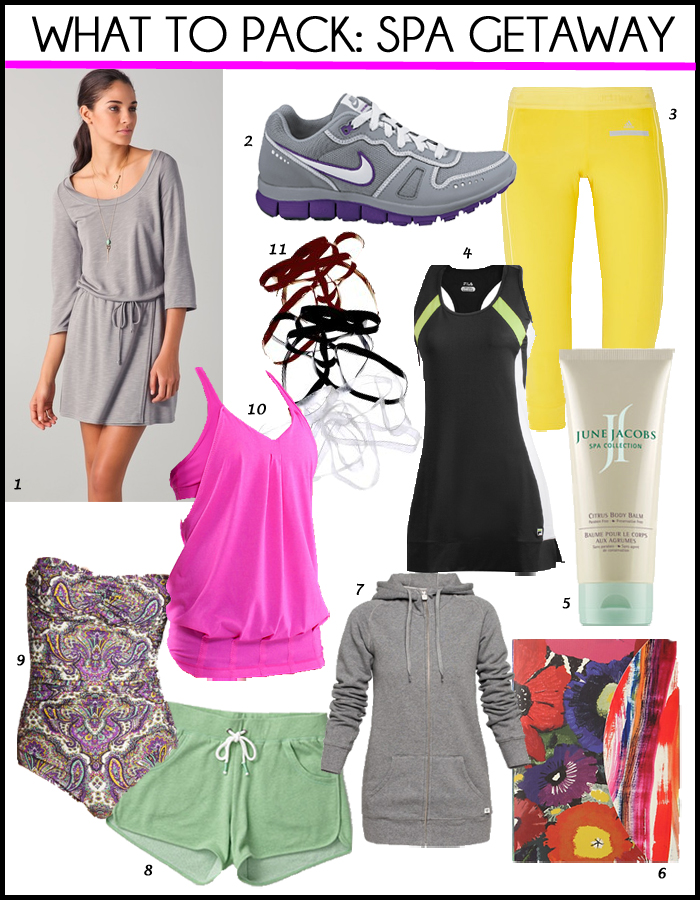 Now that we're half-way through the winter, the smell of spring lurks around the corner. With that in mind we like the idea of escaping the hustle and bustle of the city to rejuvenate our minds and bodies as the new season brings in fresh starts and clarity. While the New Year is the perfect time to get your resolutions in gear, the spring is when you can re-jolt your body and get prepped for the summer. Whether your idea of a spa getaway is a luxe resort in Arizona or a yoga retreat in Costa Rica, we've got your packing essentials covered. 
1. Lanston Scoop Neck Dress, $137, shopbop.com.
You need to pack a comfy, lightweight dress you can throw on over your swimsuit after the spa or while relaxing poolside with a magazine. We love this simple Terry dress with 3/4 sleeves that packs like a charm.
2. Nike Free Waffle AC Women's Shoe, nike.com.
From aerobics classes to running on the beach, you can't forget to pack a pair of runners on your spa vacation. Lightweight and durable, this pair is also breathable too, plus we love the purple touches too.
3. Adidas by Stella McCartney Run mesh-paneled stretch leggings, $90, net-a-porter.com.
When it comes to your workout pants, who says you need to stick to basic black? We like the idea of trying another colour like these neon yellow. While we can't say this shade is for wallflowers, it will surely add a punch to your gym look.
4. Fila center court dress, $65, fila.com.
If tennis courts are on-site, why not pack a cute tennis dress? Easier than packing two separate pieces, you'll look like a pro no matter what skill level you're at.
5. June Jacobs body balm, $57, ebeauty.ca.
Between all those spa appointments, sweat sessions and dips in the pool (or ocean!), your body will be craving moisture, which is why you should consider packing your own hydrating body balm. Add a touch of luxe to your holiday with this citrus-scented body balm from June Jacobs.
6. Anthropologie Fireworks Floral Journal, $14, anthropologie.com.
Part of a spa holiday is reconnecting with your spirit as much as it is about rejuvenating your body. Why not reflect your daily thoughts in a journal, even if it's just to recount your daily activities. Tote along something stylish, like this colourful journal from Anthropologie.
7. TNA Long fit hoodie in charcoal, $75, artizia.com.
After a day of workouts and spa treatments you'll want to get cozy back in your suite. Pack a warm sweater like this TNA hoodie to stay comfy if the temperature drops in the evening.
8. Joe Fresh weekend short, $16, joefresh.com.
Another great piece that does double-duty is a pair of cotton shorts. If the weather's hot, you'll want something lightweight you can throw on in a second with a simple tank or tee en route to the spa.
9. J. Crew Royal paisley bandeau tank, $104, jcrew.com.
You can't leave home without at least one bathing suit. If you're not in the mood to wear a two-piece, this bandeau tank is a cute option that is best for lounging poolside or in the hot tub.
10. Lululuemon Athletica practice freely tank, $58, shop.lululuemon.com.
We're huge fans of Lululuemon and love their line of stylish tanks that are cute enough to wear out of the gym. This particular top is great for yoga, but is also great for lower impact activities like weight training or the elliptical.
11. Sephora Collection snag-free hair elastics, $3.50/set, sephora.com.
Between workouts and the spa, long-haired ladies will need to put their hair back daily. Don't let your hair get tangles or break with these snag-free hair elastics from Sephora which come in black, brown and clear.