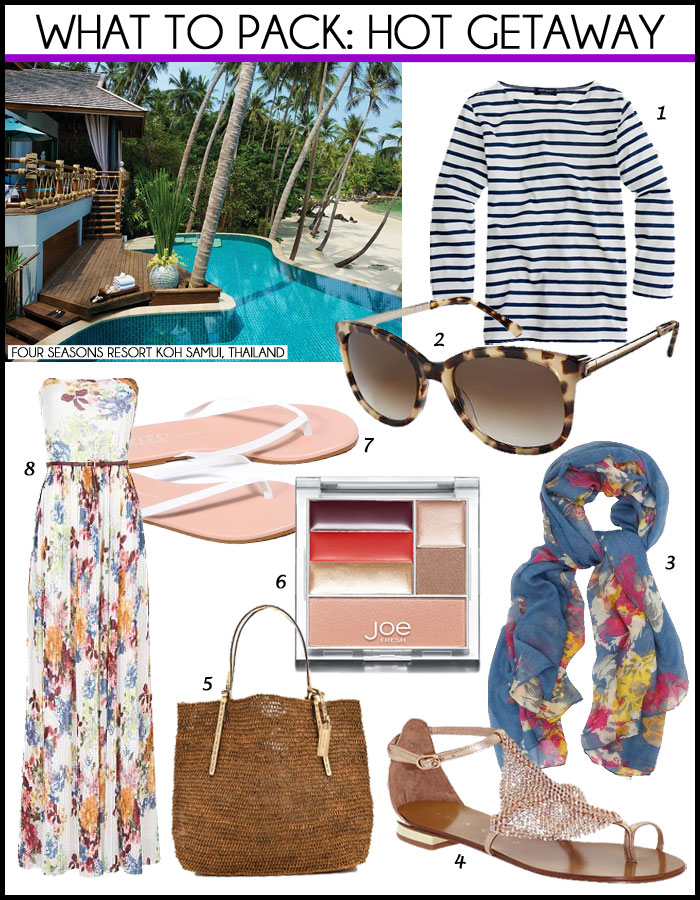 The holidays are the perfect time to pack your bags and swish away to a tropical, sunny, hotter-than-hot destination. Whether it's pre- or post-holidays, we always have a few selects that are ideal for a warm weekend getaway. Update your wardrobe with these finds that will not only help you soak up the rays on an island, but will also take you well past winter and into spring.
1. Striped Tee
Another great dress up or dress down option — the classic nautical striped t-shirt. Opt for a light-weight version with 3/4 sleeves to pair with denim short during the day, a sequin skirt or chic white cigarette pants at night.
J. Crew Saint James Galathee Tee, $108, jcrew.com
2. Tortoise Sunnies
If you don't already own a pair of tortoise sunglasses, we're pretty sure you have them on your list of things to buy. You can't get much better than these beauties with the perfect mix of colour and shape.
Kate Spade New York Tortoise Sunglasses, $133, piperlime.com
3. Floral Scarf
Blast away the winter blues with a bright, floral print scarf. Ideal for the plane as a light wrap, breezy tropical nights and the added bonus, you'll have it come spring.
Joia Floral Print Scarf, $48, eluxe.ca
4. The Dressy Sandal
There's a reason why these sandals are continued best sellers. They're chic with the metallic-finished mesh, work great with shorts, dresses and skinny pants — plus they're incredibly comfy.
Lola Cruz Flat Sandal in Cobre, $232, piperlime.com
5. The Perfect Tote
What says tropical and sunny destination more than a raffia woven tote? It oozes summer appeal and we love the texture and size of this bag with metallic straps.
Michael Kors Santorini Raffia Tote, $507, shopbop.com
6. A Bright, Fresh Palette
Downsize your beauty needs and manage just a carry-on (super chic for a weekend getaway) by packing a punchy palette. Shimmery gold, berry hues and cherry red will create just about any warm weather makeup look.
Face Palette, Bright Burst, $12, joefresh.ca
7. Simple Flip Flops
Go from beach to pool side to a casual stroll around a quaint Caribbean town with simple white flip flops.
Tkees Polishes Flip Flop in French Pedicure 2, $55, eluxe.ca
8. The Maxi
Super easy to pack, we heart a great maxi that can be chill and casual with simple flat sandal and a denim jacket, or dressed up with heels and an amazing clutch.
Strapless gown, $170, shop.mango.com