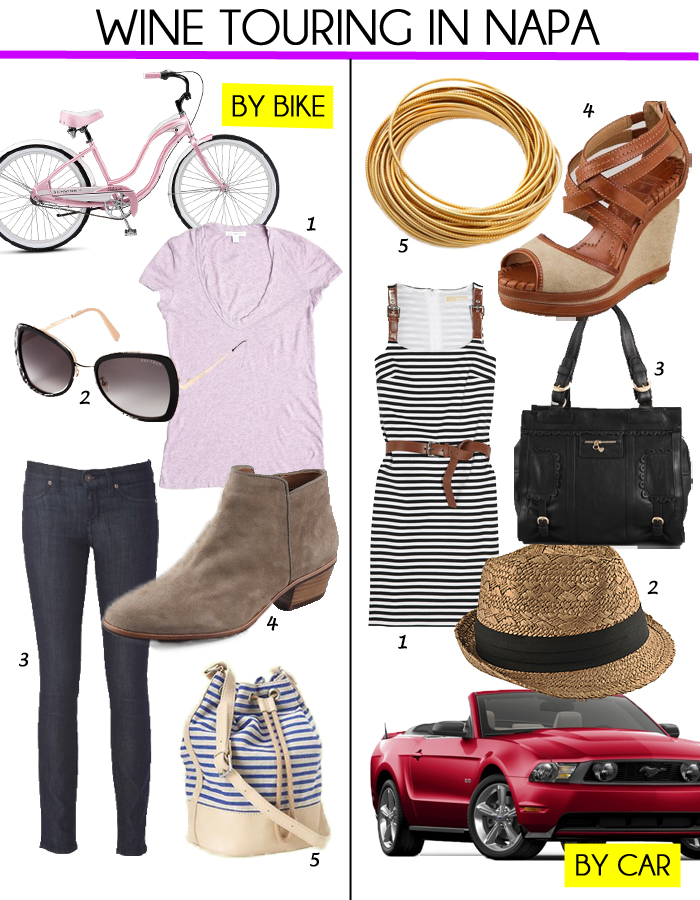 This past fall we headed West to explore the Golden State of California. Our adventure included a quick overnight stop in Napa Valley, which we quickly fell in love with. Rolling hills, rows upon rows of vineyards and a beating hot sun — it was the perfect backdrop for a bike tour. Napa is truly a must-visit destination for wine lovers. Even if you're not into the vino, it's a hot-spot for foodies too. We however, are fans of the grape and had to do some wine tasting. Our mode of transportation was the bike, which is a really fun way to see the area, but we'll be honest — next time we might opt for a car mainly to cover more territory. Whether you take Napa in slowly by bike or with the top down in a convertible, we put together appropriate outfits for each scenario.
By Bike
1. James Perse short sleeved Heathered relaxed casual v-neck tee, $59, dealuxe.ca.
You'll definitely want a comfy cotton tee if you're planning on biking. Depending on how hot it is, it's a great basic under a thin cardigan or cute enough to be worn alone. We like the soft purple hue, which will bring you nicely into the spring. Plus you can't deny the great fit.
2. KayTran Celine rose gold/polished black sunglasses, $320, kaytran.com.
We fell for these gorgeous shades by Canadian designer Kathy Tran who just launched her line last month. Handcrafted in Italy, it's not just about how stylish her eyewear is (it's impossible to pick a favourite), but the fit prevents those annoying side effects (like sliding down your nose and indents) that tends to affect those with a petite nose bridge and high cheekbones (umm, hello here!). We particularly like these feminine shades with rose gold frames.
3. Rich and Skinny Legacy Skinny jeans, $180, dealuxe.ca.
Don't like your clothes tangle you up in your bike and opt to wear skinny pants, like a classic pair of dark denim. A versatile piece to pack on your trip, you can easily dress it up or down for day or night.
4. Sam Edelman Petty suede booties in Putty, $166, shopbop.com.
We like the idea of wearing a flat ankle boot while biking as an alternative to a sneaker or sandal. Plus from January to the end of April temperatures are generally under 20 degrees Celsius, so you may want to cover your toes!
5. Gap drawstring duffle bag, $60, gap.com.
We couldn't resist a touch of nautical to complete your wine tour look. This drawstring duffle bag is roomy enough to fit your day essentials and you can wear it cross-body which makes it easier to bike with.
By Car
1. MICHAEL Michael Kors striped-jersey dress, $150, net-a-porter.com.
Comfortable, yet stylish, this striped frock is the perfect little outfit to keep you cool while touring the wineries of Napa. If you're worried you'll get chilly we suggest pairing with a lightweight black cardigan.
2. Aldo Marschel hat, $20, aldoshoes.com.
Protect your face from the California rays with a simple straw hat. Picking a cheap and cheery option means you'll have more money to splurge on a great bottle of wine.
3. See by Chloe Poya medium tote bag, $617, shopbop.com.
It may be black, but it's hardly basic. We love the scalloped trim around the front for some feminine details, as well as the antiqued gold hardware. A tote you'll want to hang off your arm long after your tour is over.
4. Frye Corrina wedge sandals, $206, shopbop.com.
Wine tours often include walking through uneven ground, up and down stairs and grassy fields. You can still get height and style by choosing to wear a wedge like these canvas and leather sandals by Frye.
5. Kate Spade seaport twist bangle, $145, katespade.com.
What's not to love about a handful of super-skinny gold-plated bangles? A great piece to dress up an outfit, we think it will fully pull this look together.