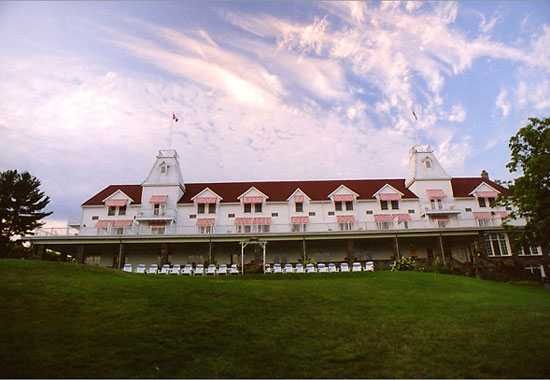 Windermere House
Located on Lake Rosseau, Windermere House has quite a history to it. Built in 1870, it has been a landmark on the lake since it opened. A devastating fire occurred during the filming of the Hollywood movie The Long Kiss Goodnight (starring Samuel L. Jackson) and destroyed much of the resort, but they managed to rebuild the property to its original glory in 1997. Further modernizations have continued, including the introduction of The Cottages, which are available for fractional ownership, as well as Oliver & Bonacini, the resort's exclusive foodservice provider.
Offering 54 rooms and suites, all of which have been recently upgraded, as well as 4-bedroom cottages, it's a hotel that is decidedly luxurious, but still manages to maintain a cozy, cottage-like atmosphere.
Restaurant-wise, you have four outstanding options. The Rosseau Grill is the resort's higher-end restaurant (entrees range from $19-$44) serving dishes like seafood salad, steak frites, and rich twists on comfort foods like the Lobster'oni and Australian Lamb & Shepherd's Pie. If a beer on a patio is more what you're craving, the Windermere Pub & Patio is the best spot for a sunny afternoon bevvie. There aren't many places to indulge in really authentic sushi up north, but you can do it here at EDO, which we suggest enjoying on the verandah. For those who prefer a little music with their cocktails, take a seat at PJ's Lobby Bar for a pre-dinner drink and snack.
Other resort highlights? Windermere recently added the Sanctuary Day Spa, which offers everything from massage and facials to manicures and pedicures. Activity-wise there is an 18-hole golf course steps away, an outdoor pool, tennis court and fitness centre.
Rates start at $199 for a Garden View room and includes breakfast.
Where to Find:
Windermere House
2508 Windermere Road
Windermere, ON
(888)-946-3376, windermerehouse.com