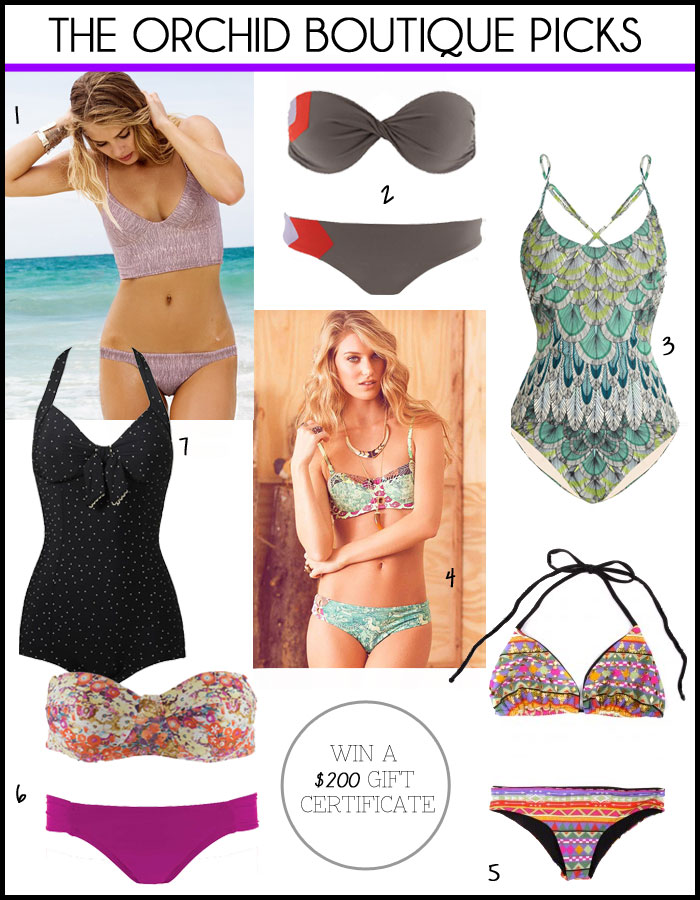 It's never too early to start thinking about a new swimsuit. If you're not lucky enough to live in a hot climate where bathing suits are year-round attire, then chances are you're starting to think about a new suit for summer or (hopefully!) an upcoming tropical getaway.
To help you on your search we suggest checking out The Orchid Boutique. We recently discovered this online swimwear store and were instantly impressed with their awesome assortment of designers, and styles of suits. The boutique is home to tons of brands you'll love too, like Tori Praver (we've raved about her here before), Mara Hoffman, ViX and Vitamin A.
We picked 7 of our favourite styles from the site, any of which we'd love to wear on the beach or even poolside! See something you'd love to have too? Well, we're making it that much easier with our giveaway! Our friends at The Orchid Boutique are giving our readers a $200 gift card towards a purchase on their site! Entering is SUPER easy. Just head over to The Orchid Boutique, pick out your favourite swimsuit and tell us which one you'd love to wear in the comment section of this post!
You'll be eligible to enter until 5 p.m. EST on Friday, April 12, 2013. We'll randomly pick a winner on the weekend and let you know Monday!
P.S. The Orchid Boutique ships within the U.S., as well as internationally (that includes us in Canada!).
1. Tori Praver Palm Tankini, $110 top, $106 bottom
A gorgeous two-piece for those who don't feel like exposing everything. New from Tori's 2013 collection, we love the feminine colour and the flattering cut of the top, which has adjustable straps too.
2. L*SPACE Neo Bandeau Bikini, $79 top, $70 bottom
Bandeau's can get a bad rap for being unflattering, but not this one thanks to its twisted front. We also like how its simplicity gets a boost with the colour-blocking details.
3. Marta Hoffman Feather One Piece, $220
Proof that one-pieces can be cute, we are crazy about the stunning peacock pattern and the criss-cross design on this suit.
4. Maaji Swimwear, $60 top, $60 bottom
If you're a little self-conscious up top, look for a top with added support like this suit which has an underwire top and adjustable straps. Another bonus? All Maaji swimsuits are completely reversible, so it's like you're getting two suits in one.
5. Malai Swimwear "Studded Glam Gia," $70 top, $52 bottom
For you classic bikini girls, you'll love this sexy suit from Malai. Definitely an option for the confident woman, it's hard not to love the playful pattern.

6. L*SPACE Demi Floral Berry, $117 top, $61 bottom
Create the illusion of a fuller bust with a top that has a print, like this super sweet floral bandeau. The top also has underwire and padding, so you're not being squished down. Don't feel like doing the bandeau? The top comes with removable straps.
7. Seafolly Harlow Retro One Piece, $148
It's OK to want a bit more coverage, hey we've all been there, but frumpy, never! That's why we're fans of this swimsuit. The top has padding for a little boost, and the boy shorts are cute, without overexposing you.