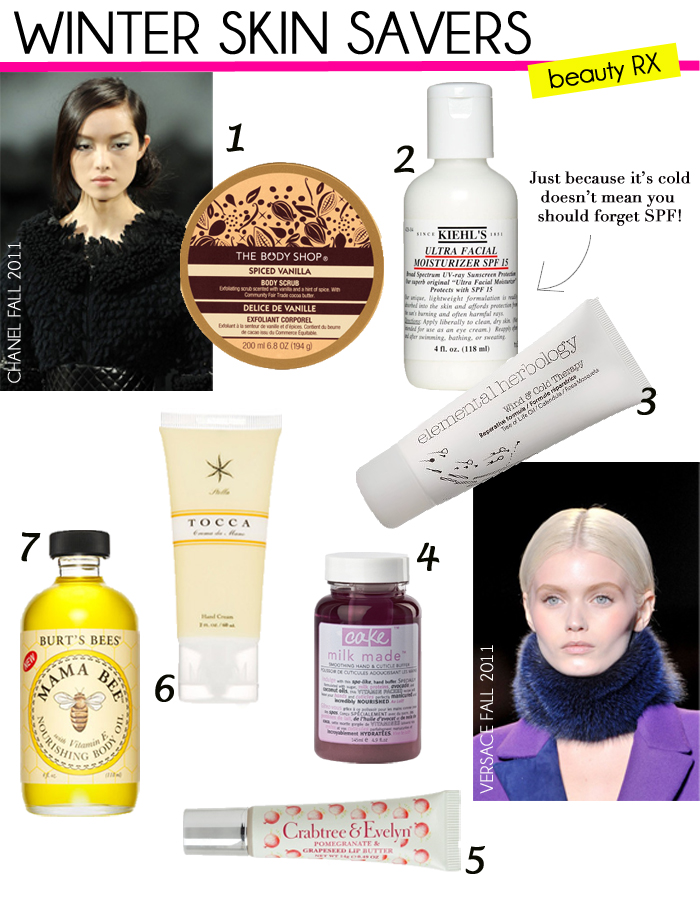 Love them or hate them, us Canadians have to face the cold, windy and often harsh winters that leave us dreaming about summer days and hot destination escapes. Even if a warm weather vacation is on the agenda, you still have to deal with the elements for the remainder of the season. To help you cope with the worst the winter has to offer, we've found 7 skin savers that will leave you looking gorgeous well-past the last snowfall.
1. The Body Shop Spiced Vanilla Body Scrub, $18
Dry skin is a major winter beauty offender, partially due to the indoor heat sucking out the moisture at home and the outside elements. In addition to locking in your skin's moisture, sloughing away the dead skin cells that build up can help reveal softer, smoother skin, as long as you don't overdo it — most dermatologists suggest once to twice weekly exfoliation in the winter. We like the festive vanilla scent of this scrub from The Body Shop.
2. Kiehl's Ultra Facial Moisturizer SPF 15, $26
Just like the rest of your body, many skin types need a bit more moisture in the winter months — face included. But unlike the rest of your body, which is likely covered in many layers of clothing, your face still needs a SPF in the winter. That's why we're fans of the lightweight, but moisturizing option from Kiehl's and with a built-in SPF, it's one less thing to worry about putting on.
3. Elemental Herbology Wind & Cold Therapy, $47
When your hands and lips are so dry it feels like nothing will get the moisture back, that's when you turn to Wind & Cold Therapy from Elemental Herbology. A formula that works on hands, cuticles, lips or really any dry skin area that needs repair, once applied this moisturizer will also work as a buffer against the elements. Apply before bed so it can work it's magic overnight.
4. Cake Milk Made Smoothing Hand & Cuticle Buffer, $18
Get a spa-like effect at home with Cake's ultra-hydrating and deliciously-scented hand and cuticle oil. Made with almost 100% natural ingredients including coconut oil and raw honey, it only takes one time to experience great results. Plus we love the yummy warm vanilla and bake raspberry scent.
5. Crabtree & Evelyn Lip Butter, $9
We were on the hunt for a moisturizing lip gloss that not only smelled and looked nice, but worked well too, which is why we were so happy to discover Crabtree & Evelyn's collection of lip butters. Free of preservatives, parabens, sulfates and other additives, but packed full of nourishing and botanical ingredients like shea butter, mango oil and beeswax, the flavours like pomegranate, vanilla brûlée and peppermint are so delicious it's hard to pick just one.
6. Tocca Beauty Crema Da Mano Hand Cream, $8
An on-the-go hand cream that's worth packing is one we found from Tocca Beauty. It's a rich and non-greasy formula with a sweet, but subtle scent. The jojoba seed and avocado oils help to nourish and moisturize, while the chamomile helps to soothe. A pretty and packable option.
7. Burt's Bees Mama Bee Nourishing Body Oil, $10
There's nothing like an intense moisturizer to bring hydration back to your skin, but a body oil can be a great alternative if you have really sensitive skin and want instant softness. We're fans of the natural ingredients in Burt's Bees body oil that includes almond oil, lemon oils and Vitamin E to help hydrate, plus it's delicate enough to use on baby's skin.